iPad Rental Rates:
$99 per week for the 16 GB Wi-Fi iPad.
$129 per week and $30 for each 250MB minimum data usage required per week for 3G version.
Additional 250mb blocks billed at $30 per block.
**Minimum usage requirements may apply please call for details Your iPad will arrive all set up and ready to use via Overnight (or 2 Day) FedEx. Please be sure to order as far in advance as possible as these rentals have been extremely popular. Orders to be shipped the same day must be received by 10am EST unless other arrangements have been made. Your 3G mobile number for short-term usage is already assigned, all you have to do is experience it, enjoy it and return it. This is your chance to find out what all the buzz is about.
Let us spend the time and expense of doing the set up, registration and subscriptions. You can just concentrate on using the iPad and experience for yourself how it performs in your daily work life, geographic area, and company setting.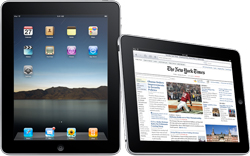 We are happy to to offer the Apple iPad for rental. If you would like to try this amazing device for yourself please call for details and availability right away as a limited number of iPads are currently available.
Reservations can be made at 866-858-1174
We are Nationwide Computer and AV Rental Solution Providers for Your Events
If you would like to try the Apple iPad before you buy, be sure to consider our iPad rental starting at just $129. If you are interested in experiencing the iPad for yourself or have a trip overseas and need a cost effective way to access the web and stay on top of your emails, this is the rental opportunity for you.
Our new iPad evaluation program allows you to rent an iPad for a fraction of the purchase price. For just $129, you can have 7 days to see why the iPad has been called the next giant leap forward in mobile communication.

Many companies looking for ways to increase productivity have already started evaluating the iPad as a potential laptop alternative and are renting iPads to see how they could use this technology. This short-term trial has no long-term contract so you donít have to deal with the potential headaches.
Specializing in iPad, Computer and AV equipment rentals get Quotes for your Plasma and Computer rentals for NAB, E3 Expo, Anime Expo, Siggraph, Comic-Con, AVN, CES, SEMICON, Interbike, GDC, CableShow, InfoComm, SEMA, AVN, NRB, NAMM, NADA, ATX, WSA, MAGIC, Toy Fair, CHA, SIA, ESC, OMMA, GAMA, eforall, ALA, Cine Gear, PMA, IWF, CTIA, Sundance, AV rentals for tradeshows, meetings, special events. Offices serving California, Burbank, Los Angeles, Los Angeles Convention Center, Santa Monica, Culver City, Long Beach, Glendale, Pasadena, Valencia, North Hollywood, Hollywood, Anaheim, Anaheim Convention Center, Irvine, Newport Beach, Beverly Hills, San Dimas, Ontario, Pomona, San Diego, Carlsbad, Texas, Arlington, Dallas, Fort Worth, Houston, Atlanta, New Orleans, Orlando, New Jersey, New York City, Manhattan, Boston, Philadelphia, Baltimore, Washington DC, Chicago, Portland, Seattle, Santa Clara, Berkley, San Francisco, Oakland, Bay Area, San Jose, Nevada, Las Vegas, Phoenix, Scottsdale, Salt Lake City.
Nationwide Call 866-858-1174 or email for Audio Visual and Computer Rentals