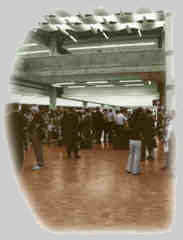 expos4products Develops
Virtual Product Displays 4 Virtual
Expo's and Trade Shows
Tired of traveling around the country for yet another trade show? Then you will be interested in expos4products, a Virtual Expo and international trade b2b hub which was introduced on the Internet on February 1, 2001. Located at www.expos4products.com this on-line event now draws over 450,000 page views per month. Unique visitors number 8,000 to 9,000 every month and growing.
The first expo sponsored by www.thevirtualgallery.com, a online arts and crafts portal, the show provided visitors with a fast, convenient--and free--way to check out some of the latest news and technology through virtual exhibits. Participants logged on from as far away as Germany, China, India, Japan, Russia, Mexico, England, Chile, Canada as well as from all parts of the United States.
At the Expo, participants could download text, video and sound clips, as well as participate in discussions about many different topics. At the trade show, could visit a virtual exhibit area which included three-dimensional booths, multimedia theaters and interactive product demonstrations. And if visitors became tired of "Looking" through the trade show area, they could visit at any time in the future since the show is open 365/24/7.
Duane Wangenheim, a Los Angeles Area consultant, helped develop this concept and is a leader in this up and coming internet field devoted to viewing online Virtual Product Display's. He reports that although the technology was still a bit "New" the experience was valuable. "This could easily serve as a model for future shows," Wangenheim says. "The Internet is ideal for this method of desk top trade shows, exhibits, expos, and trade fairs, and it's a great way to get new information easily."
Now with the experience of 36 virtual Expo's at www.expos4products.com the shows have a permanent new home at our Virtual Expo Convention Center to locate new and existing virtual expos. We will be expanding this to bring information and products from the more than 26,000 traditional walk in tradeshows. We have condensed some of these now and opened these first 36 shows to bring you new and exciting products. Just point your Mouse over the Expos to see which are open. Come back often to visit with new exhibitors. These expos will showcase products from around the globe.
The Exhibitors of expos4products.com include both new and existing industry leaders throughout the dot com and bricks and mortar marketplace. Whether you have a leading web site, a vertical niche market audience, an online product inventory, or an global enterprise, expos4products.com provides solutions to further the growth of your business. With our services, we can help drive transactions and revenue, and keep your customers coming back. The competition is just one click away, and you need to stay at the top. expos4products.com can help your company stay visible to the public. We can assist you as we have successfully assisted our many clients.
As an online content or entertainment provider, you have a unique opportunity to turn your traffic into profits. Within a few minutes, you can be placing individual products and links from hundreds of quality merchants on expos4products.com Web-View sites and earning revenues from them. Just use visit our affiliate information area to find out more. It's that simple.
expos4products offers you:

On-line viewing of the latest products and services using virtual product displays

Combines the format of a trade show with the power of the Internet to provide a successful industry marketplace

All Sponsors, Co-Sponsor s, and Golden-Sponsors have the use of our
Virtual Expo-Booth at no charge.
This is a savings of $1200.00 per year

Service available 24 hours a day, 7 days a week all year

A central information center with internet content

State of the art showcase product displays for your products, services, and inventions

Combines the format of a trade show with the power of the Internet to provide Instant updates of products, services and new inventions

Pricing For
Sponsor $720.00
Co-Sponsor $500.00
Golden-Sponsor $300.00
Silver-Sponsor $200.00
Standard-Sponsor $120.00
Virtual Expo-Booth $1200.00

See expos4products
Master floor plan

Convention Center

See Expo's here

expos4affiliates
expos4arts
expo4crafts
expos4autos
Pay-Per-Click4expos
expos4inventors


On line Registration for your expo4products
Product-Booth

Prices are for 12 months
form date
of your approval Plus 15 days
expos4products unleashes the power of the Internet in a unique visual experience for the professional buyer - a virtual trade show with Virtual Product Displays! Our 3D Virtual
Product Displays allows professionals to view the latest products on-line - a time and money saving solution over attending a show in person. See how to show your products
Our goal is to provide data and up to the minute information on products and/or services that are currently available to the professional buyer.
expos4products is a unique opportunity to showcase your latest products and/or services on-line. With the increase in usage of the internet, www.eexpos4products.com is becoming the gateway professional buyers are turning to. With more than 26 years experience in the Product Display industry, we are creating new and unique ways to reach the global community.